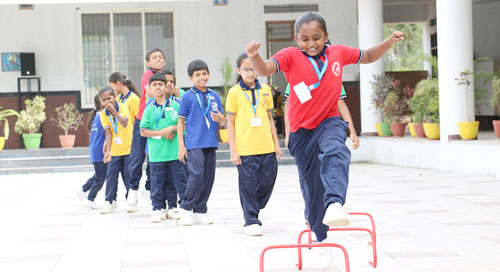 The Physical Education Department of Kristu Jayanti CMI Public School aims at the holistic development of the child. The great end of this education is to discipline; to train it to use its own powers, rather than fill it with the accumulations of others. The Physical Education department constantly strives to develop innate qualities like team spirit and fellowship.
Sports Day and several athletic-related activities are conducted every year to emphasize the importance of sportsman spirit.
The students are given the opportunity to learn multiple sports items like badminton, basketball, football, and Kho-Kho along with indoor games such as carom, and chess to sharpen the mind as well as the body.
Sport is a pivotal part of well-rounded holistic education and each grade has a stipulated hour of games per week to boost their athletic spirit. The benefits of sports and games in the school are uncountable; it improves blood circulation and reduces issues of respiration, it improves concentration, it is a way to learn healthy competition, can nurture mutual respect, honesty, dedication, etc.
Kristu Jayanti CMI Public School offers various outdoor games such as football, basketball, badminton, skating, cricket, volleyball, and kho-kho, and also certain indoor games such as chess, carom, and table tennis.