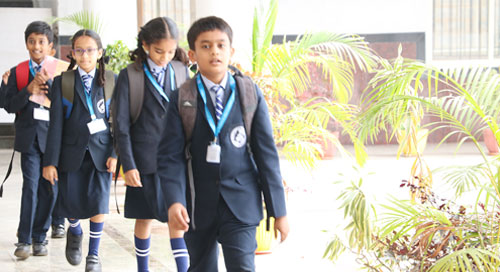 NORMS FOLLOWED FOR FIXING FEE
The school fee is fixed after considering several factors, such as the normal capacity of parents to pay, the guidelines provided by the CBSE and State government, the average pay scales offered in private schools, the need to balance income and expense of the school on an annual basis, the need for a reserve fund, the school's contingency fund, and other similar issues. The latest facilities provided at the school also matters much in deciding the quantum of fees.
Fee Structure (A.Y 2023-2024)
| | |
| --- | --- |
| Class | Fee |
| Pre-KG | Rs. 40,000 per Annum |
| LKG and UKG | Rs. 45,000 per Annum |
| I, II, III and IV Standard | Rs. 38,000 per Annum |
| V, VI, VII Standard | Rs. 43, 000 per Annum |
| VIII Standard | Rs. 48, 500 per Annum |
| IX Standard | Rs. 53, 500 per Annum |
| X Standard | Rs. 58, 500 per Annum |
Other Fees:
Admission fee (New Admission), Uniforms, Books, Bus fee and Extra Curricular Activities.
Tuition fees shall be paid through DD only on any Nationalised bank.
An admission fee of Rs.10000 will be availed from the students for the first year of enrolment.
Uniforms, bus fees, extra- curricular activity and text books are exempted from the tuition fees.
Fee Regulations
School fees must be paid regularly during the stipulated time allotted for the same. Fees can be remitted in the school office. Fee receipts must be retained and produced as proof of payment, if necessary. All fee dues must be cleared before a student is permitted to sit for the final examination.