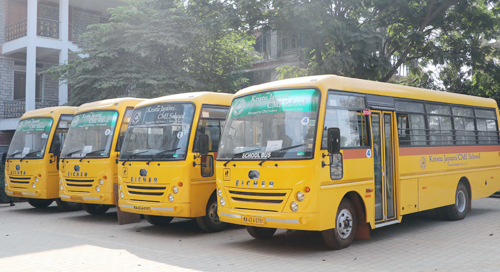 Krist Jayanti CMI School has a clear mandate for the safety and security of each child in the campus and it is doing enough to protect the students from security issues.
The School has laid down briefs on fire safety management, structural safety, how to deal with violence and ragging in schools, how to protect children from sexual abuse, and how to ensure safety of children in school buses, among others.
It has installed CCTV cameras at all vulnerable areas within the school and to limit the entry of outsiders within its premises
The management has made a policy that the non-teaching staff such as bus drivers, conductors, peons and other support staff be employed only from authorised agencies and that proper records be maintained
School must recognise the power of vigilance as the key to protecting children.
TRANSPORTATION FACILITIES
Transportation facilities are available to various places like Nelamangala, Rajanukunta, Hesseraghatta, and Doddballapura and to near and far villages.
All buses are equipped with, Pneumatic door system, CCTV footage and GPS for real time tracking
Nannies are appointed in each bus to take care of the children.